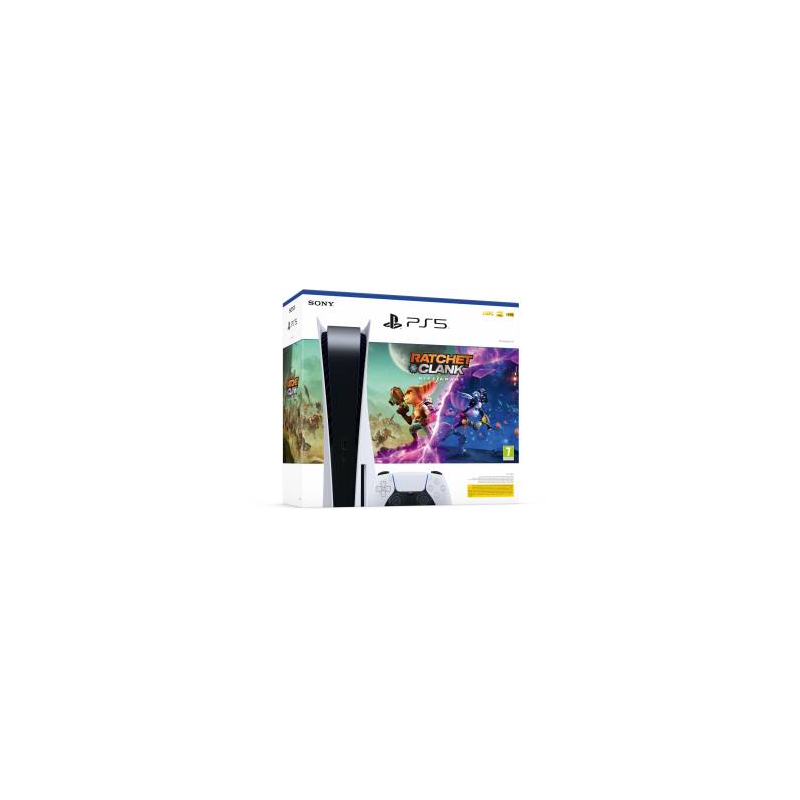  
PS5 Console 825GB White + Ratchet & Clank: Rift Apart
Incredible speed
The power of custom CPUs, GPUs and SSDs with integrated I/O system allows performance never seen before on a PLA console
Ultra-high speed SSD drives
Free shipping throughout Europe by express courier.
Payment methods

Incredible speed
The power of custom CPUs, GPUs and SSDs with integrated I/O system allows performance never seen before on a PLA console
Ultra-high speed SSD drives
Optimize your gaming sessions with almost instant load times for installed PS5 games.
Integrated I/O system
Custom integration of PS5 console systems allows developers to extract data from the SSD so quickly that they can create games in ways hitherto unthinkable.
Extraordinary games
Be amazed by incredible graphics and discover the new features of PS5.
Ra TRAC
Immerse yourself in worlds with an unprecedented level of realism with individually simulated rays of light to create realistic shadows and reflections in supported PS5 games.
Game on 4K TV
Enjoy your favorite PS5 games on your awesome 4K TV.
Up to 120 fps with 120 Hz output
Enjoy smooth and smooth gaming action thanks to the high frame rate up to 120 fps for compatible games , with support for 120 Hz output on 4K displa.
HDR technology
With an HDR TV, supported PS5 games offer an incredibly intense and realistic color gamut.
Output 8K
PS5 consoles support 8K output,so you can play games on displa risoluzione
Other features of the PS5 console
Backward compatibility
Enjoy an extensive catalog of PS4 games on your PS5 console™
Boosting games
Enjoy faster and smoother frame rates with a selection of PS4 and PS VR games.
Converting PS4 titles to PS5 games
The PS5 console gives game publishers the ability to allow players to convert their digital and disk PS4 games into digital PS5 games.1
Integration with PLA VR
Connect PLA VR station VR to PS5 console to enjoy supported PS VR games. To set up PS VR with your PS5 console you need PLA Camer station Camera2 for PS4 and a PLA adattatore Station camera adapter (no purchase required). Further details on how to request an adapter will be shared on PlayStation.com as soon as available.