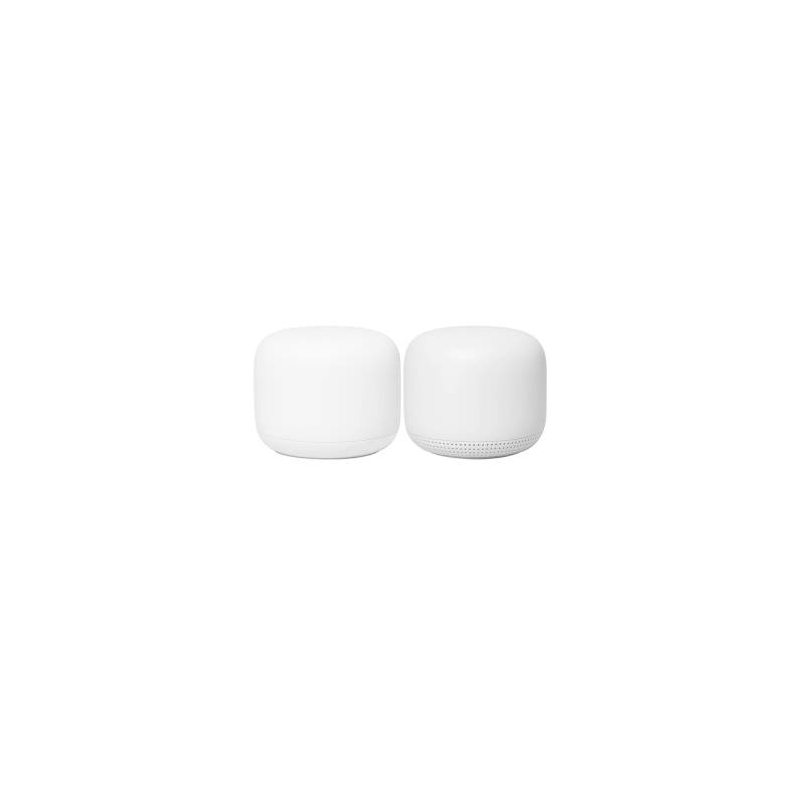  
Google Nest WiFi Router + White Point
Google Nest Wifi, Router and Point 2-pack. Wi-Fi band: Dual-band (2.4 GHz / 5GHz), Wi-Fi standard: Wi-Fi 5 (802.11 ac), WLAN Data Transfer range (max): 2200 Mbit/s. 
Free shipping throughout Europe by express courier.
Payment methods

TECHNICAL DATA SHEET
Feature
Device type Wi-Fi system-mesh-integrated 2-port switch
Wi-Fi router system components, extension cord
Wi-Fi System coverage up to 210 m.q.
Desktop coating type
Wireless connection technology, wired
Data Link protocol Ethernet, Fast Ethernet, Gigabit Ethernet, IEEE 802.11 b, IEEE 802.11 a, IEEE 802.11 g, IEEE 802.11 n, IEEE 802.11 ac
Frequency band 2.4 GHz / 5GHz
Network / transport protocol PPPOE, DHCP, DHCPv6
Encryption Algorithm WPA3
Features ac Wi-Fi AC2200
Mesh net Yes
Features NAT support, MU-MIMO technology, beamforming technology, band steering
Compliance standards IEEE 802.11 b, IEEE 802.11 a, IEEE 802.11 g, IEEE 802.11 n, IEEE 802.11 k, IEEE 802.15.4, IEEE 802.11 ac, IEEE 802.11 v
1 x ARM 1.4 GHz processor
RAM 1GB
4GB flash memory
Size and weight
Dimensions (Hxwxd) ( 11cm x 11cm x 9.04 cm - Router) (10.22 cm x 10.22 cm x 8.72 cm Acess Point)
Supply
Power supply devices external power adapter - 15 watts
Expansion / connectivity
LAN interfaces: 2 x 10Base-T/100BASE-TX/1000BASE - T-RJ-45
Internet of things (IdC)
Bluetooth Low Energy (LE)communication technology
Compatible with Smart Assistant Google Assistant
other
Snow coating color
Cables included 1 x network cable - 2m