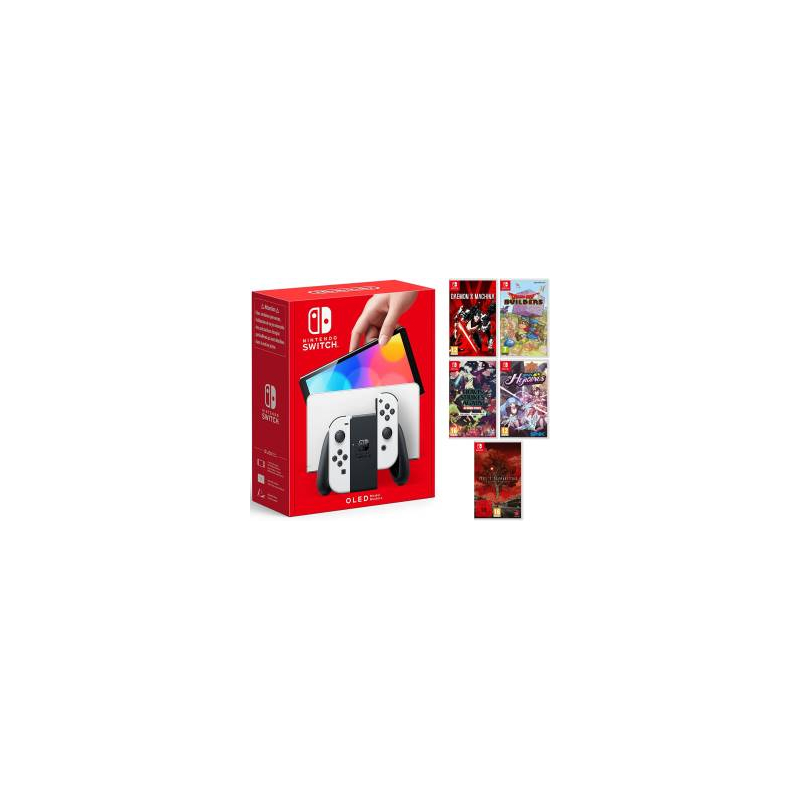  
Switch Console OLED White + 5 games
Switch SNK Heroines Tag Team Frenzy
Switch Travis Strikes Again: No More Heroes + Season Pass
Switch Dragon Quest Builders 2
Switch Daemon X Machina
Switch Deadly Premonition 2: a Blessing in Disguise
Free shipping throughout Europe by express courier.
Payment methods

Meet the new member of the Nintendo Switch Family. The new system is equipped with a vibrant 7-inch OLED screen, a large adjustable stand, a dock with a wired LAN port, 64 GB of internal memory and advanced audio. Play anytime, anywhere and with anyone. Nintendo Switch can transform to fit your situation, so you can play the games you want, no matter how hectic life may be.
Take it and play with the connected Joy-Con controllers. Nintendo Switch (OLED model) includes an OLED screen with a thinner frame. The vivid colors and high contrast of the large screen offer a rich handheld and board gaming experience, bringing games to life whether you are running at maximum speed or facing enemies.
Open support and switch a controller to another player to share the screen and enjoy competitive or cooperative multiplayer, anytime, anywhere. Nintendo Switch's wide adjustable stand (OLED model) can be set to your preferred viewing angle for comfortable gameplay in tabletop mode.
Gather around a big screen and enjoy playing with a crowd. Connect your Nintendo Switch to enjoy HD games on your TV. The dock included with Nintendo Switch (OLED model) is equipped with two USB ports, an HDMI port for connecting to a TV and a new wired LAN port, which allows a more stable online game when playing in TV mode.
Save games to your system with 64GB of internal memory and enjoy enhanced audio from the system's built-in speakers.
VIDEO GAMES INCLUDED:
Switch SNK Heroines Tag Team Frenzy
Switch Travis Strikes Again: No More Heroes + Season Pass
Switch Dragon Quest Builders 2
Switch Daemon X Machina
Switch Deadly Premonition 2: a Blessing in Disguise