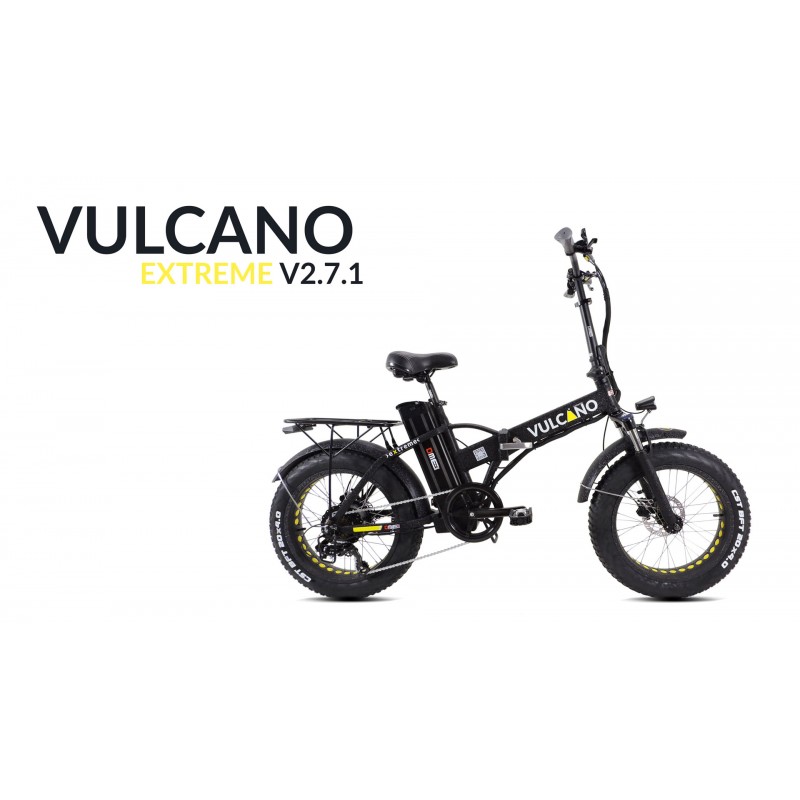  
VULCANO extreme V2.7.1 500W - Electric Bike
The attention to detail make the VOLCANO a bike that is desirable to non-fans of the genre FAT-Bike
Free shipping throughout Europe by express courier.
Payment methods

The attention to detail make the VOLCANO a bike that is desirable to non-fans of the genre FAT-Bike.The version EXTREME V2.7.1 of the bike the Volcano mount a brushless motor last generation with a power of 500W. The bike is powered by a lithium - ion battery of the latest-generation 48V 20.8 Ah.The computer borbo, through its LCD display and the multi function buttons, handles the basic functions of the electric part of the bike, such as, for example, the levels of assistance motor to the pedaling.The mechanical rear derailleur, SHIMANO 7 speed is a great complement to the electric part of the bike to pedal bikethe VOLCANO.Thanks to the front suspension mechanical rides comfortably on any type of route.
The lighting system can be activated by handlebar, with LED technology. The LED light is strong and low-power consumption excellent in situations of poor visibility.
The rear light mod. C1, which can be activated from the handlebar with the aid of the wireless controller is dedicated, includes a bright LED strip, programmable with different sequences of view, two indicators, directional left/right and two laser perimeter that signal to the ground, the rider's position; useful function in situations of poor visibility.The disc brakes present on the version Extreme, are high quality brakes TEKTRO which, compared to traditional brakes, provide braking, stable and precise.The front brake system and rear hydraulic TEKTRO, brand which over the years has become synonymous with quality.The electric bike the VOLCANO is equipped with electric motor brushless (without brushes) of the last generation, reliable and energy-low. The version V2.7.1 has an engine 500W 48V, compliant with the latest european directives.
The speed reached with the aid of the electric motor 500W is - as expected from the current european laws - in excess of 32 Km/h.
The electric motor is mounted on the rear hub. Choice that distinguishes an electric bike high-end.
Below, the technical specifications of the bike VOLCANO EXTREME EDITION in the version V2.7.1
| Features | V2.7.1 500W |
| --- | --- |
| Frame | Aluminium 6061, foldable |
| Weight | 28Kg approx. (battery included) |
| Suspension | Front suspension mechanical |
| Measures tire | CST 20*4" |
| Material circle | Aluminum alloy, 5-spoke |
| Color Flap | Yellow |
| Front brake | Disc, hydraulic, TEKTRO |
| Rear brake | Disc, hydraulic, TEKTRO |
| Exchange | Shimano Tourney, 7 Speed |
| Engine | Brushless 500 WATT, 48V |
| Location | Rear hub |
| Manufacturer | BAFANG |
| Battery | Lithium-ion (Li-Ion) 48V 20.8 AH / SAMSUNG |
| Location battery | The external, under-seat storage, removable |
| Battery with USB port | You |
| Charging time | 8 Hours |
| Recharge cycles available | 1000 recharge Cycles |
| Controller Model | LCD KD21C |
| Type of Controller | Multifunction dispslay LCD |
| Accelerator manual | No |
| Km covered | min 70 km / max 150 |
| Headlight | LED |
| Rear light | LED |
| Saddle | Ergonomic, with a central hole |
| Fenders | Metal, solid |
| Roof rack | Metal, max 10 Kg |
| Colors available | BLACK wrinkle (paint raggrizzante) |
| Accessories included | Battery charger 220V |