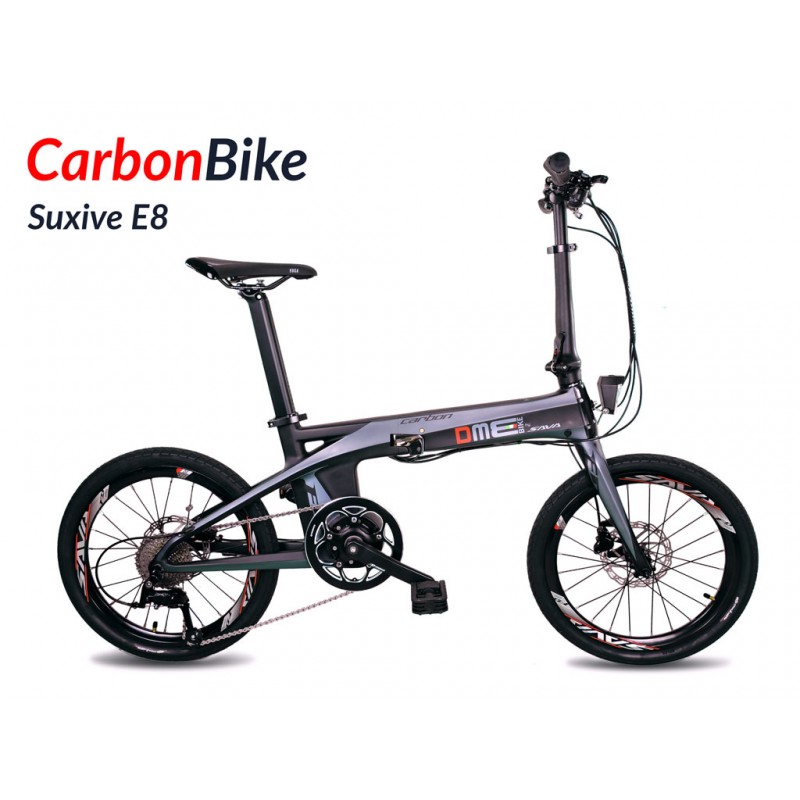  
SUXIVE_E8_V1.0_250W - electric bicycle
is a carbon bike electric, features a carbon frame including the fork rigid.
Free shipping throughout Europe by express courier.
Payment methods

The engine is a YUEBO S60 with sensor Torque integrated in the central movement, has a power of 250W with a maximum speed of 25 km/h.
The presence of the sensor - Torque will give you the ease of pedaling. The Torque motor lets you transform your bike into a Pedalec of excellent quality; thanks to the technology of TORQUE to the latest generation, the engine will run in an intelligent manner according to the pedaling of the user.
 
 
In fact, the torque sensor is inserted to the inside of the engine will understand the force that is doing the user on the pedal and the multiply in the output on the transmission with variable intensity depending on the level of assistance selected.
 
The electric part of the bike SUXIVE E8 is managed by a controller KEYDYSP KD21C-KDS and a display LCD, backlit, 5 levels of assistance.
The battery Samsung lithium-ion battery is positioned in the tube and has a capacity of 313 Wh (36 Volts, With 8.7 Ah), the capacity varies from 40 to 50 km
Specifications of the bike SUXIVE E8
| GENERAL |   |
| --- | --- |
| Model | Carbon-bike, electric |
| Colors available | Silver / Grey |
| Material Of Frame | Carbon fiber |
| Folding frame | You |
| Diameter wheels | 20" |
| Total weight of the Bike | 14Kg (approximately) |
| MECHANICAL |   |
| Exchange | 9-Speed SONA (SHIMANO) |
| Type of front brake | Not present |
| Type of rear brake | SHIMANO SORA / R3000-GS |
| Type of fork | Fork standard |
| POWER |   |
| Electric motor | Brushless 36V 250 Watt |
| Battery type | Accumulators, Lithium-Ion (Li-Ion) |
| Location battery | The external, under-seat storage, removable |
| Nominal voltage | 36V 9Ah |
| Capacity in KM | 40/50km depending on the strain of the engine |
| Charging time | 6 -8 Hours (approx.) |
| Charging cycles available | 1000 full Charges (about) |
| ELECTRONIC |   |
| Type of Controller | LCD |
| Backlight | You |
| Battery charge level indicator | You |
| Support engine with adjustable | 5 levels |
| Other functions | Odometer |
| LIGHTING |   |
| Headlight | You / Led |
| Rear Light | You / Led |
| ACCESSORIES |   |
| Saddle | Ergonomic |
| Roof rack | Not present |