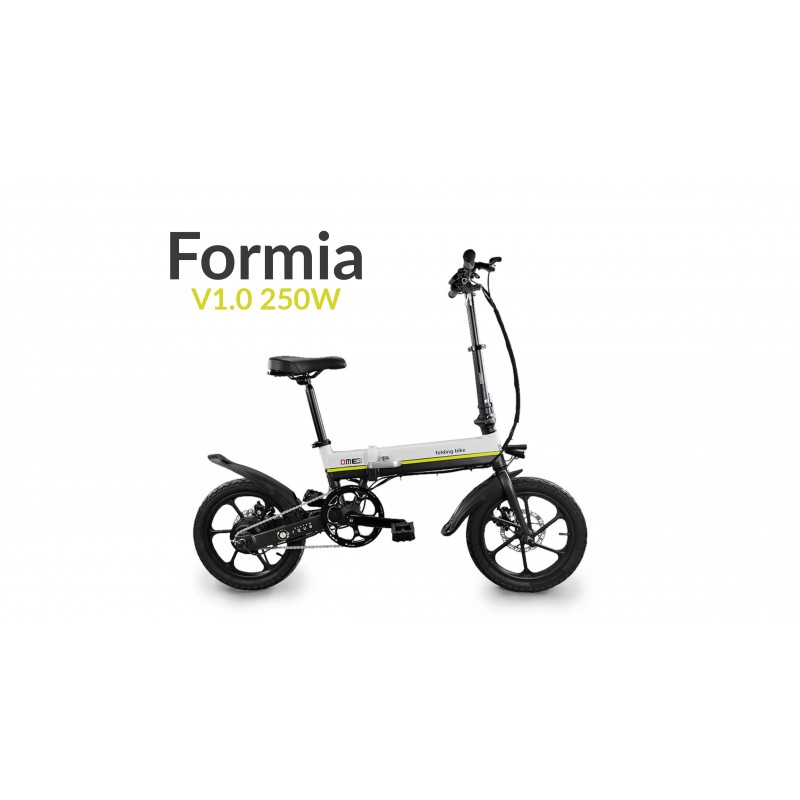  
FORMIA_V1.0_250W - electric bicycle
lightweight,folding,aluminium alloy frame.
Free shipping throughout Europe by express courier.
Payment methods

Thanks to the foldable frame and wheels 16", FORMIA is a folding bike that is compact, easy to store in the trunk of your car, in the garage or in the house. Carries the electric bike FORMIA everywhere! Tram, Bus, Metro, will not be more of the obstacles to reach your goal.
The attention to detail and the quality components make for FORMIA a bike from the excellent quality / price ratio.The presence of the sensor-Torque will give you the ease of pedaling.The engine Torque will allow you to transform your bike into a Pedalec of excellent quality; thanks to the technology of TORQUE the latest generation of engine will work in a intelligent by following the pedaling of the user. In fact, the torque sensor is inserted to the inside of the engine will understand the force that is doing the user on the pedal and the many-plicherà in and out of the transmission with variable intensity depending on the level of assistance selected.The computer borbo, through its LCD display and the multi function buttons, handles the basic functions of the electric part of the bike, such as, for example, the levels of assistance motor to the pedaling.The rear tail lamp LED embedded in the saddle offers a high brightness in situations of poor visibility.Disc brakes, compared to traditional brakes, provide braking, stable and precise. The electric part of the bike FORMIA is powered by a battery lithium-ion (Li-Ion) battery that ensures from 30Km up to 60Km* with a single full charge.
Specifications of the bike FORMIA
| GENERAL |   |
| --- | --- |
| Model | Folding-bikes, electric |
| Colors available | Dark grey, White, Yellow |
| Material Of Frame | Aluminum alloy 6061 |
| Folding frame | You |
| Diameter wheels | 16" |
| Total weight of the Bike | 18 Kg approx. |
| Maximum load transportable | 100Kg |
| Maximum speed | 30 Km/h |
| MECHANICAL |   |
| Exchange | 1 Speed |
| Type of front brake | disc, mechanical, TEKTRO MD-280 |
| Type of rear brake | disc, mechanical, TEKTRO MD-280 |
| Fork with shock absorber | No |
| The frame and shock | No |
| POWER |   |
| Electric motor | Brushless 36V 350 Watt |
| Battery type | Accumulators, Lithium-Ion (Li-Ion) |
| Location battery | Internal frame, removable |
| Nominal voltage | 36V 10.4 Ah |
| Capacity in KM | 30/60km, depending on the strain of the engine |
| Charging time | 6 - 8 Hours |
| Charging cycles available | 1000 full Charges (about) |
| ELECTRONIC |   |
| Type of Controller | KEYDYSP KM529 |
| Backlight | You |
| Battery charge level indicator | You |
| Support engine with adjustable | 5 levels |
| Other functions | Odometer |
| LIGHTING |   |
| Headlight | You / Led |
| Rear Light | On / LED under-saddle |
| ACCESSORIES |   |
| Saddle | Ergonomic, with a central hole and a led light rear |
| Roof rack | Yes, metal (max 25kg) |