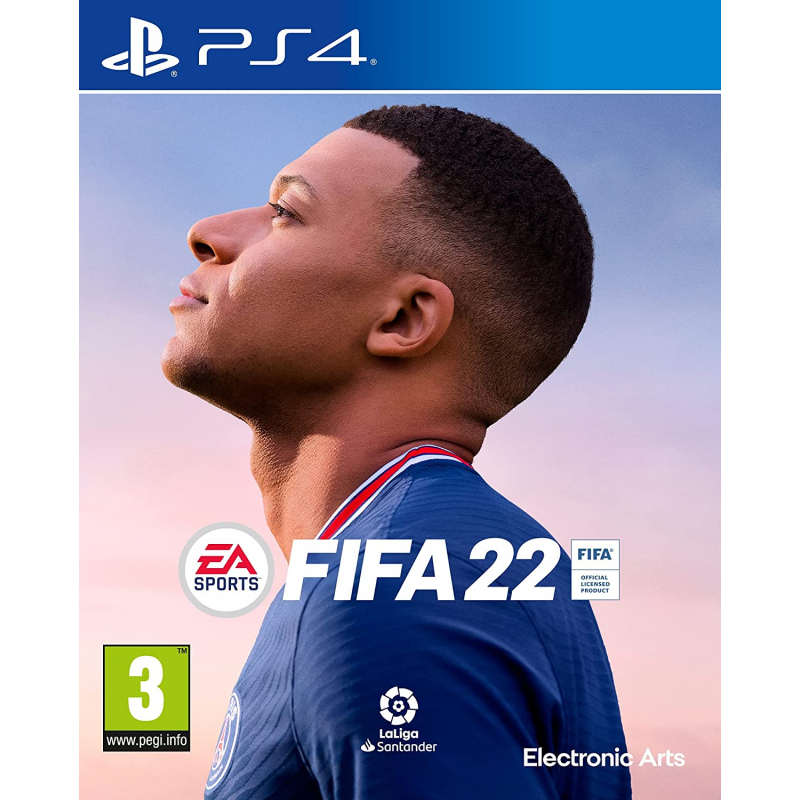  
PS4 Fifa 22
Based on Football ™, EA SPORTS ™ FIFA 22 makes the game even more realistic, with substantial gameplay improvements and a host of innovations across all modes. FIFA 22 news includes revised artificial intelligence for goalkeepers
Free shipping throughout Europe by express courier.
Payment methods

Product details
Based on Football ™, EA SPORTS ™ FIFA 22 makes the game even more realistic, with substantial gameplay improvements and a host of innovations across all modes. The new FIFA 22 includes revised artificial intelligence for goalkeepers, which ensures more realistic behavior by extreme defenders. Added to this are new ball physics, explosive shots that better reflect the acceleration of the fastest players, and new offensive tactics that allow you to control the style of play of your team. Realize your football dreams in Career Mode. Create your team from scratch and bring it to success. VOLTA FOOTBALL rewards your style with revised low-level gameplay and new ways to play and progress each season. Take the field with your Pro Club, with new personalization options for the team and the date of progression, which allows you to check the growth of your Pro virtual, from take back some of the players historians in the form of the FUT Heroes in FIFA Ultimate Team™, and test your skills against other users in a more accessible thanks to a new competitive structure. Whichever way you choose to play, enjoy unparalleled realism with over 17,000 players, over 700 teams and over 30 competitions, including the UEFA Champions League, CONMEBOL Libertadores and the new UEFA Europa Conference League, available only in FIFA 22.
Playability
The revised gameplay introduces substantial improvements to all modes of FIFA 22. The new artificial intelligence for goalkeepers ensures more realistic behavior by extreme defenders in the most sensitive role. The new ball physics rewrites every pass and goal, while the explosive sprint allows you to take advantage of the acceleration of the fastest players.
Goalkeepers revisited: the new artificial intelligence system applied to goalkeepers makes extreme defenders more confident of their conclusions and allows them to make more effective decisions among goalkeepers. In FIFA 22, goalkeeper positioning replicates the different styles adopted by extreme defenders around the world, to represent those who make reflexes their strength.
Real ball physics - real data imported into FIFA 22 introduces a new level of realism to ball physics. The modified parameters include speed, rotation, air, terrain and rolling resistance and make every touch, Parry, shot, flyover, pass and dribble happen just like in reality.
Explosive shooting-the new explosive shooting mechanic changes the gameplay in 1v1 situations, ensuring greater control of acceleration during dribbling or defense. Attract opponents and choose when to unleash your speed to escape the target as you lead your team's attack.
New offensive tactics-new offensive tactics allow you to define your team's playing style in more detail. Choose different styles for your team in every part of the field: keep the ball in its half and rely on quick maneuvers to hit opponents, resort to long throws from one area to another or adopt your own style of play.
RACE MODE
Fulfill your football dreams in FIFA 22 Career Mode. Create a team and lead it from the slums of the leaderboards to the top of international football and enjoy an improved playing career with different ways to advance, score goals and get involved in the game. of your virtual alter ego on and off the field.
More information about the New Career Mode features will be available shortly.
VOLTA CALCIO
VOLTA FOOTBALL is back with new ways to express your style and connect with your team on street courts around the world.
More information about VOLTA FOOTBALL's new features will be available shortly.
FIFA ULTIMATE TEAM
Create the team of your dreams and compete in FIFA's most played mode, with thousands of players to add to your club and countless ways to customize your team on and off the field. Whether you want to play in Squad Battles, solo, FUT Co-op, Online and in Division Rivals or challenge the best in FUT Champions, FIFA Ultimate Team ™ (FUT) puts you in contact with the world of football throughout the entire season with a series of contents that are influenced by the performance and results of the competitions of the real world, such as the UEFA Champions League, UEFA Europa League and the CONMEBOL Libertadores.
FIFA 22 Ultimate Team rewrites the way you compete in Division Rivals and FUT Champions, to create a more accessible environment in which to test your skills against other users. Beyond that, there are even more ways to customize your gear, inside and out
Customers who bought this product also bought: