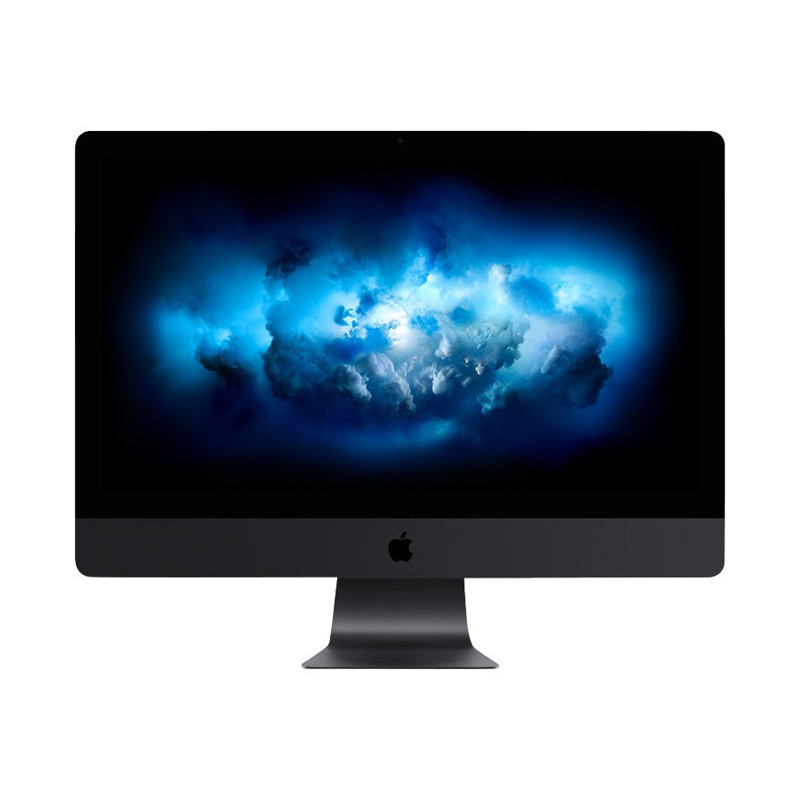  
Apple iMac with Retina 5K display Processor Intel Xeon W 14-core 2.5 GHz, 64GB RAM
Intel Xeon processor W 14-core 2.5 GHz (Turbo Boost up to 4.3 GHz)
64GB of ECC memory DDR4 at 2666MHz-SSD-2TB
All-in-one - unique-look at It and conquers-another level-at all levels-More space and more speed-Sound and images by applause.
Free shipping throughout Europe by express courier.
Payment methods

When you have an idea to develop,there is nothing like the iMac. It has a stylish design,it is incredibly intuitive and gives you very powerful instruments to make extraordinary every project. This model goes further with processors and graphics, more snappy,more memory and storage space,audio and video technologies enhanced,and a display Retina 5K to be even more spectacular. Is the desktop computer that can do everything,and does it better and faster than ever.
You look at it and will win
Every thing becomes more beautiful on the Retina display. With a billion colors and brightness is amazing,the images pierce the screen and the text is razor sharp. The advanced True Tone gives you a brightness, more natural and fatigue-less eyes,and the ability to choose the glass with nanotexture to reduce reflections to a minimum.
Sit back and fasten your seat belts
iMac and the powerful processors are one and the same. You can configure this model with a powerful processor,giving you the power to work with Photoshop,edit video and compose music.
Another level to all levels
The graphics of the iMac is spectacular,ideal for managing workflow chart very demanding,such as editing video Ultra HD or programming games amazingly realistic.
More space and more speed
You'll have so much more space and speed, mind-boggling,fantastic performance to manage with maximum agility your libraries of photos and videos,heavy files, apps, and professional.
Sound and images by applause
Video calls perfectly sharp,recordings, crystal clear,a sound that envelopes you when you listen to music and watch movies:the iMac is a magician of communication and entertainment. And the chip T2 conducts the orchestra of the speakers,to give you equalization and variable low-end response even more profound. The result is a sound that is absolutely high fidelity:powerful and balanced at the same time.
Product description Apple iMac Pro with Retina 5K display - All-in-one - Xeon W 2.5 GHz - 64 GB - SSD 1 TB - LED 27"- Italian - 18 TFLOPS
Type Personal computer - All-in-one - 18 TFLOPS
Intel Xeon processor W 2.5 GHz (4.3 GHz) (14-core)
Processor main features Intel Turbo Boost Technology
The cache memory 23.75 MB
Cache per processor 23.75 MB
RAM 32 GB DDR4 SDRAM - ECC
SSD hard drive 2 TB
Optical storage No optical drive
Card reader Yes
Monitor 27"- LED - 5120 x 2880 (5K)
Graphics Controller AMD Radeon Pro Vega 56
Video memory 8 GB HBM2
Camera Yes
Stereo audio output
Networking GigE,802.11 a,10 GigE,802.11 b/g/n,802.11 ac,5 GigE,2.5 GigE,Bluetooth 5.0
Power supply, 120/230 V ac (50/60 Hz)
OS provided Apple macOS Catalina 10.15
Gray color space
Dimensions (Wxdxh) 65 cm x 20.3 cm x 51.6 cm
Weight 9.7 kg