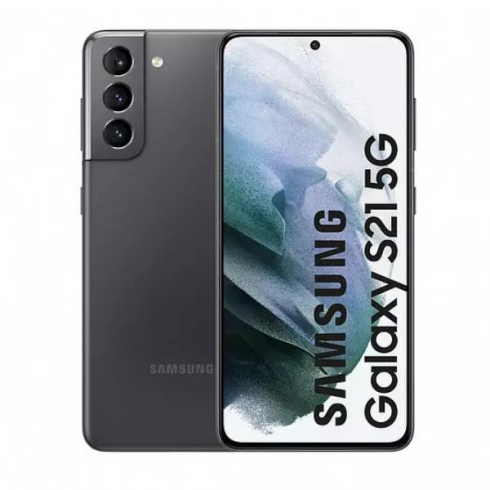  
Samsung Galaxy S21 G991 5G, DUAL SIM, 128 GB, 6GB RAM GREY
Directly from the stars comes the mobile phone Samsung Galaxy S21 5G, feature-rich, provide an excellent experience and you ascend to the sky and beyond. The screen is infinite, this smartphone will take up the entire palm of your hand and allow you to enjoy your content and your favourite applications
Free shipping throughout Europe by express courier.
Payment methods

Directly from the stars comes the mobile phone Samsung Galaxy S21 5G in grey, feature-rich, provide an excellent experience and you ascend to the sky and beyond. The screen is infinite, this smartphone will take up the entire palm of your hand and allow you to enjoy your content and your favorite applications.
Speed and capacity for interstellar!
The Samsung Galaxy S21 5G incorporates the Exynos processor 2100, which allows the phone to function with great power without consuming so much. This, added to the 8 GB of RAM, which has, will provide you with an incredible speed in order to use your applications and perform all types of activities. All of this with the Android operating system. In addition, you can save all your photos, videos, files and install a large number of applications in 128 GB of storage space.
Screen endless, addictive sound and long range
Look at your photos, your videos and everything you want on its AMOLED screen dynamic 6.2 ". This screen provides you with a great clarity and a resolution FHD + (720 x 1280p) with high resolution, which you will not lose any detail. But not only will you see spectacular images, but you can also listen to them with quality sound thanks to its stereo speakers. And don't worry about the fuel consumption since the smartphone has a 4000 mAh battery that will allow you to use it for hours and hours without having to do worry about it and that, in addition, supports fast charging and wireless charging.
Cameras with a resolution of another galaxy
The cell phone Samsung Galaxy S21 5G incorporates a triple rear camera and a front camera. This means that you have three goals back, one main 64-MP, 12 MP and 12 MP. And to make unique your selfie, has a front lens 10 MP so you can take photos in poor lighting conditions. But it doesn't end here, you can record video in the resolution Ultra HD 4K quality film, even with its front-facing camera.
Designed to succeed with the connectivity of the future
The icing on this smartphone is its design, not only for its huge screen, but also because it is made with materials of the highest quality. In addition, it incorporates not only a fingerprint sensor to the ultrasound. Nothing will escape your security. And if that wasn't enough, it is waterproof (IP68) and belongs to the last generation of telephony 5G. What more could you ask for?
Technical characteristics
Type of device:
Galaxy S21 5G
OS:
Android 11
Processor:
Exynos 2100
Processor speed:
2,90 GHz
Memory capacity:
128 GB
Size of RAM memory:
8 GB
Item number:
1496936
screen
Screen size (cm):
15,74 cm
Screen size (inches):
6,2 "
Screen size (cm / inch):
15,74 cm / 6,2 "
Size:
1280 x 720 pixels
Horizontal resolution:
720 pixels
Vertical resolution:
1280 pixels
Color Display:
yes
Touch screen:
yes
camera
Rear-facing camera:
Triple Cam
Resolution of the rear camera:
64 megapixels
Features of the rear camera:
12/64 / 12MP, Zoom x3 x30
Front camera:
yes
Resolution front camera:
10 megapixel
Features of front camera:
10 MP
Built-in Flash:
yes
Features
Fingerprint reader:
yes
Data + connections
Generation mobile:
5G
Net:
5G
Bluetooth:
yes
Wi-Fi:
yes
Cover
Certificate of resistance:
IP68
Waterproof:
yes
Color:
Grey
Width:
7,12 cm
Height:
15,17 cm
Depth:
0,79 cm
Weight:
169 gr
Power supply
Quick charger:
yes
Wireless charging:
yes
The capacity of the battery:
4000 mAh
General characteristics
Dimensions / Weight:
7,12 cm x 15,17 cm x 0.79 cm / 169 g
Meet:
Charging cable mobile
Dimensions (w / h / d) (cm):
8,64 cm / 6,2 cm / 17 cm
Shipping width:
8,64 cm
Shipping height:
6,2 cm
The depth of the packing:
17 cm
Circumference:
46.68 cm
Packed weight:
450 gr